Do you want to know when the EuroMillions lottery will organise its next EuroMillions Superdraw 2016? Then you've come to the right place! There is usually a EuroMillions superdraw sometime between March and May, but it didn't happen this year. We'll update you when the official lottery announces the next one.
The first EuroMillions Superdraw 2016 would hopefully take place sometime early in the summer of 2016.
When was the Last EuroMillions Superdraw 2015?
The date for the last EuroMillions Superdraw 2015 was 6 November 2015, and the lottery world shifted up a gear for one of the lottery highlights of the year! With a guaranteed EuroMillions starting jackpot of €100 million, the EuroMillions Superdraw made many a heart beat faster. Especially so for one player from Portugal who eventually won the EuroMillions Superdraw jackpot on 20 November 2015, when it had hit €163.5 million.
The next EuroMillions Superdraw will take place in 2016 and we will of course keep you posted on any developments.
What Is a EuroMillions Superdraw?
The EuroMillions Superdraw 2016 works similarly to the regular twice-weekly draws of the Pan-European EuroMillions lottery, with one HUGE difference: the starting jackpot is €100 million instead of the usual €15 million EuroMillions base jackpot. The EuroMillions operators across Europe jointly decide each year to organise a few of these special draws, spread out over the whole year.
How to Play EuroMillions Superdraw
Play the EuroMillions Superdraw 2016 – it's as easy as pie! All you need to do is purchase your standard EuroMillions tickets and you will automatically participate in the EuroMillions Superdraw 2016. As always with EuroMillions drawings, in order to rake in that coveted jackpot, a winning player must match all five main numbers and both the Lucky Stars. The EuroMillions Superdraw, to be held as always in the glamourous French capital of Paris, will prove to be even more nail-bitingly exhilarating than usual EuroMillions draws.
Check the EuroMillions Results every week on theLotter.
What Happened to the EuroMillions Superdraws in 2014 & 2015?
The final EuroMillions Superdraw of 2015 happened in November when a Portuguese player won €163.5 million. The second EuroMillions Superdraw of 2015 took place on June 5th. On June 12th, a British EuroMillions player finally won £93 million after the jackpot had rolled over twice! The last EuroMillions superdraw before that one was on March 6th, 2015, when a lottery player from Portugal won the €100 million top prize. The last EuroMillions Superdraw of 2014 took place on October 3rd 2014. The €100 million guaranteed Jackpot subsequently rolled over six times before a ticketholder from Portugal finally scooped up a staggering €190 million Superdraw jackpot on October 24th. Earlier in the same year, the Event Draw of June 6th, 2014 was superseded by the regular EuroMillions jackpot, which had already rolled over naturally to €105 million, therewith taking away the need to proceed with the Superdraw. In March of last year, Neil Trotter, a player from the UK, won the Superdraw EuroMillions jackpot, after it had rolled over twice to £107 million.
Will the EuroMillions Superdraw Jackpot Roll Over?
The question on everyone's mind is whether the big European EuroMillions Superdraw jackpot will be won outright, or if it will roll over again to reach such staggering proportions as it did last year. Any EuroMillions Jackpot, including the jackpot at Superdraws, cannot exceed the €190 million mark. If this cap is reached, the Jackpot will remain at €190 million. Any prize money that would normally have elevated the jackpot rolls down to the next category in which there's a winning prize, effectively increasing the prizes for that category. Once the jackpot cap's in place, EuroMillions jackpots can only rollover once more. After this, the jackpot MUST be won either by a ticketholder who matches five main numbers and two Lucky Stars, or otherwise by (a) player(s) in the next Prize category in which at least one ticketholder wins a prize.
How Do You Win the EuroMillions Superdraw Jackpot?
Obviously you have to play the EuroMillions to win the Superdraw and theLotter is the best place for people from all over the world to participate in EuroMillions draws!
Avoid losing out by purchasing a EuroMillions Multi-Draw pack now. With Multi-Draws, you purchase tickets with your preferred numbers for 5, 10, 26 or 52 consecutive draws in advance and you save up to 25%. Alternatively, you can opt for a EuroMillions lottery subscription, which runs on until you cancel it. Subscribers get every 10th ticket free and enjoy 25 VIP Points extra.
Do you want to improve your odds even more? 1 in every 3 jackpots is won by a syndicate. Play in one of our much-praised EuroMillions syndicates and buy hundreds of lines at a time for a fraction of the price – simply by joining other players on theLotter.
What Are the EuroMillions Superdraw Records?
EuroMillions Superdraw jackpots roll over until someone wins. It's as simple as that. So the sky's the limit. Well, "almost", if you want to be all picky about it… The popular lottery does in fact have an unfathomably high cap of €190 million. The second-highest EuroMillions Superdraw jackpot in history was on the brink of reaching the cap and was finally won after rolling over all the way to €188 million on June 25th, 2013. Besides last October's Portuguese winner's mind-boggling €190 million Superdraw jackpot win, the only other EuroMillions jackpot of €190 million was shared by two charmed players in August 2012. But this top win did not come about because of the Superdraw, but rather was the result of a regular EuroMillions jackpot cycle.
The History of EuroMillions Superdraw
The EuroMillions lottery started in 2004 with minimum guaranteed lottery jackpot of €15 million (or £11 million in Sterling). Since 2007, however, the European super lottery offers special draws with massively inflated jackpots at Event Draws called Superdraws. With minimum guaranteed jackpots starting at €100 million, these have become much-anticipated events on the annual lottery calendar. The Superdraw EuroMillions jackpots are made possible by contributions from the dedicated Reserve Fund of the Pan-European lottery. At every regular EuroMillions draw, 8.6% of the generated income is deposited in the so-called Common Prize Fund and the money is utilised for the Superdraw jackpots when the time arises.
Winners of EuroMillions Superdraw Jackpots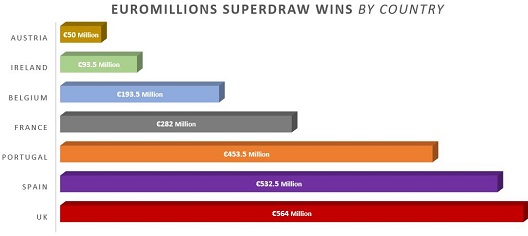 Since its inception in 2007, EuroMillions Superdraw events have set hearts racing across the continent – and beyond! A total of 20 ticketholders have won the jackpot so far and soon the European powerhouse will once again make at least one ticketholder an overnight lotto millionaire.
Have a look at the complete history of EuroMillions Superdraw wins in theLotter's exclusive EuroMillions Superdraw Historical Jackpot Records overview below.
| EuroMillions Superdraw | Rollover | Details |
| --- | --- | --- |
| 6 November 2015 | Yes | One player from Portugal won the €163.5 million jackpot on 20 November 2015, after a nail-biting rollover cycle that gripped EuroMillions fans from all over the world. |
| 12 June 2015 | Yes | A British player wins a staggering £93 million after a nail-bitingly exiting EuroMillions superdraw which rolled over twice and caused a massive influx in ticket sales across Europe. |
| 6 March 2015 | No | One player from Margaride, Portugal, won the €100 million top prize outright on the evening of the first EuroMillions Superdraw of 2015. |
| 3 October 2014 | Yes | The EuroMillions Superdraw jackpot rolled over six times before reaching the set jackpot cap of €190 million. It was won at last on Friday October 24th by a player who had purchased a ticket in Portugal. |
| 6 June 2014 | N/A | For the first time in its history, the EuroMillions Superdraw didn't need to be held, as the regular drawing cycle produced a naturally rolled over jackpot of €105 prior to the date which had earlier been announced A very lucky player from Spain did eventually hit the jackpot and took home a huge sum of €137 million the always lucky Friday the 13th (June 13th, 2014). |
| 7 March 2014 | Yes | One lucky Brit called Neil Trotter scooped up the twice rolled over Superdraw EuroMillions jackpot of £107 million on Friday 14th March 2014. |
| 15 November 2013 | No | The EuroMillions €100 Million Superdraw produced a winner first time around. The ticket in question was bought in Spain by a player who remains anonymous. |
| 7 June 2013 | Yes | The second EuroMillions 2013 Superdraw jackpot became a five-time rollover and reached a humongous €187 million. This monumental jackpot amount was shared by two extremely lucky ticketholders from Belgium and Ireland on June 25th, 2013. |
| 22 March 2013 | Yes | Vive la France! The EuroMillions Superdraw jackpot reached a grand €132 million and was won on March 29th by a French lottery player. |
| 28 September 2012 | No | EuroMillions awarded a lottery player who had purchased a ticket in – once again! – Spain with a life-changing €100 million Superdraw Jackpot. The ticketholder decided to enjoy his (or her) loot anonymously. |
| 4 October 2011 | Yes | The next EuroMillions Superdraw took place on October 7th, 2011, and made Angela and Dave Dawes from the United Kingdom overnight millionaires. The struck gold and won the massive EuroMillions Superdraw jackpot of £101 million. |
| 10 May 2011 | Yes | An anonymous Spanish ticketholder saw his or her life changed forever by winning the EuroMillions Superdraw jackpot of €121 million in the exciting draw held on May 13th, 2011. |
| 1 October 2010 | Yes | The EuroMillions Superdraw jackpot rolled over to reach a mind-numbing £113 million October 8th, when it was finally won by a stunned ticketholder from the United Kingdom. |
| 5 February 2010 | Yes | Only on February 12th did the adrenaline-rush die down after the EuroMillions Superdraws had been producing rollover upon rollover. On that day, two people in two different countries, the UK and Spain, got five main numbers and two Lucky Stars right and went on to share the towering EuroMillions jackpot prize worth some £112 million (€129 million). |
| 18 September 2009 | No | The top EuroMillions Superdraw prize was claimed anonymously by a ticketholder from France. |
| 6 March 2009 | No | Two jackpot winners this time – one was purchased in Austria and the other in France. The winners cared too much for their privacy to come out – they opted for anonymity. |
| 9 February 2007 | No | The moment had arrived and the EuroMillions Superdraw started. The first winner opted to remain anonymous. All we know for certain is that the winning EuroMillions Superdraw ticket was purchased in Belgium. |
Soon we will once again be able to add to our glorious list of EuroMillions Superdraw winners – when the EuroMillions Superdraw 2016 takes place. When this will happen is not known at the time of writing, but make sure you keep abreast on all the latest by following theLotter.com!