Who is the man seen accepting a €168,085,323 EuroMillions Superdraw Jackpot prize in an image posted on the official Twitter account of Loterie Nationale, the national lottery of Belgium?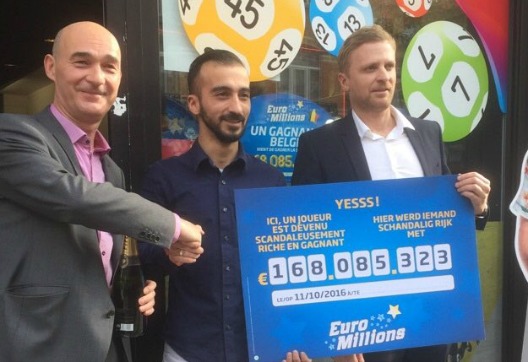 He is not the lucky winner of the jackpot, which rolled over three times from 30 September until it was finally claimed by a single Belgian ticketholder on 11 October 2016.
The man in in the image is Serkan Mola and he is the owner of the Librairie de l'Europe shop in the Schaerbeek district of Brussels where the winning EuroMillions lottery ticket was sold. Serkan says that since his image was posted on social media he has been "harassed night and day". He has asked the National Lottery to inform the public that he is not the winner and in fact, he has not been in touch with the winner of the huge Superdraw jackpot.

The real winner of the €168 Million jackpot has decided to remain anonymous, however, some interesting personal details about him have leaked to the media.
The jackpot winner is an employee of Bruxelles Propreté, the waste management service of Brussels. According to media reports, he is originally from Albania, loves football and Robert De Niro films, and plans to donate some of his win to charity. Coworkers say he has not shown up for work since he won the lottery.
The EuroMillions jackpot win this month was the largest ever by a lottery player from Belgium. The record Belgian bonanza until now was in a lottery draw in 2007, when a player took home €100 million euros.
The winning numbers of the EuroMillions drawing on 11 October, by the way, were 5 12 20 24 37 and the two Lucky Stars were 4 11. The EuroMillions Superdraw on 30 September was the first to take place in its new format as it started with a €130 million starting jackpot. The EuroMillions jackpot was reset to start at €17 million following the draw and no date has yet been set for the next Superdraw.
Never miss a EuroMillions draw – purchase your EuroMillions tickets now!