Imagine winning the Powerball lottery. With a $320 million jackpot, that win would turn your life upside down. Now imagine winning a lottery twice. Is that even possible? They say that lottery luck only strikes once, but this statement is far from true. There have been many remarkable stories about players who seem to attract lottery luck while repeatedly winning amazing prizes. Perhaps there is something to learn from these tales!
Couple Wins £1 Million Pounds Twice in EuroMillions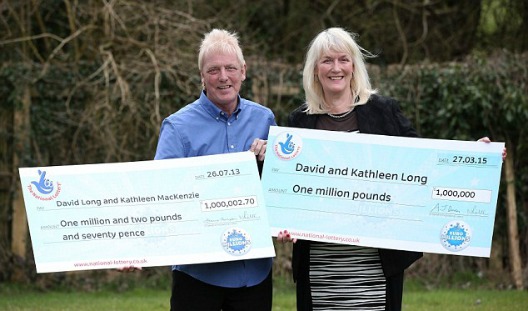 Take for example the story of David and Kathleen Long, from Scunthorpe, North Lincolnshire, who won £1 million in the EuroMillions lottery twice in two years. Their first win in 2013 had been "fantastic" Long said, and really changed their lives. Shortly after their win the couple got married and took early retirement. "I always told everyone that I'm gonna do it again. I just knew it would be my turn again someday," Long said, after winning a second £1 million prize in the UK EuroMillions Mega Friday draw on 27 March 2015. Lottery organisers Camelot said it was an "extraordinary situation" that a couple won such a prize twice, as it beat odds of more than 283 billion to one.
Twice? Irish Married Couple Wins Big Cash 9 Times!
They prefer to remain anonymous, and that's understood: A Dublin couple collected a winning cheque of €113,661 in June 2016 after matching five numbers and the bonus in the Ireland Lotto draw. "We are getting closer and closer to the jackpot," the husband said. "Since the start of the lotto, we have matched 5 numbers nine times and we're not giving up on the jackpot just yet."
Of course if the couple purchases a subscription to the Ireland Lotto at theLotter, they will never miss a chance at winning the coveted jackpot!
Two Massachusetts Men Each Win Two $1 Million Prizes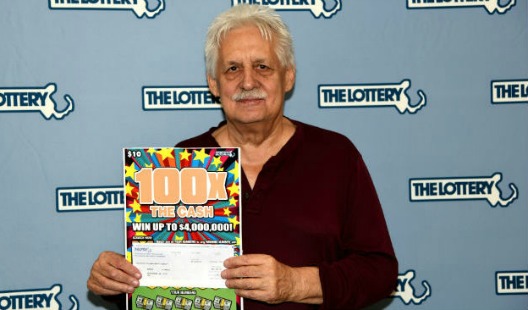 And then there's Howard Rankin from Framingham, Massachusetts. He won a $1 million instant jackpot in November 2015 when he played the $2,500,000 Holiday Bonus instant game run by the Massachusetts State Lottery. Ten months later, he purchased a ticket at the same store and won another $1 million instant prize. But wait, there is another double millionaire winner in Massachusetts! Kevin Phillips of Lakeview won $1 million playing the "100X The Cash" $10 instant game on April 30, 2014. His new prize in September 2016 was when he played the "Win It All!" $5 instant game. But wait, there's yet another two-time winner in the state! Jane Hoyt claimed her second $1 million prize in January 2016.
Can people score repeated lottery wins when purchasing tickets through an online ticket purchasing service like theLotter? Of course they can! Consider the story of:
Our Latvian Player Scores Three Big Wins in a Single Month
Our very own A.K., a star Diamond VIP member from Latvia, had a phenomenal 2013. He started off with a massive €578,000 win in the January 26th Italian SuperStar draw. Then in April he scored three lottery wins: a $10,000 pay-day in the Canada Lotto 649; $2,318 in the La Primitiva; and €4,926 in France Lotto. Who says that you can't win lotteries more than once?
Construction Worker's Second Big Win Is Bittersweet
Shortly after Long Island construction worker Bruce Magistro won a $1 million New York "Extreme Cash" prize in 2012, his wife Yvonne lost a three-year battle with cancer. Much of that prize money went to pay for her medical bills. Magistro defied enormous odds to hit a second $1 million jackpot in May 2016. "I just couldn't believe I hit it two times," he said after he realized he had won again. With plans to share his winnings with his three children and his fiancée, Magistro joked: "Hopefully I'll win again. Third time's a charm."
Arizona Couple Attributes Repeated Lottery Luck to Persistence
"When we first won, it wasn't if we were going to win again, it was when," said Kerry Carmichael from Tempe, Arizona. Along with his wife, Dianne, the couple won $2.5 million in 1995 and more recently $1 million in 2013 playing the Arizona State Lottery. To what do they attribute their lottery good fortune? "It's persistence," Diane Carmichael told the media. Or perhaps it was the $10,000 the couple spent every year on lottery tickets. Despite the two huge windfalls, the couple still lives a relatively modest lifestyles "The average person with taxes has almost no chance of getting rich by working hard," Kerry said. "The lottery is the great hope for the masses. It's a slim hope, but it's hope."
Man Named Gambles Wins Lottery Twice with Same Numbers
And then there's the man whose name is appropriately Larry Gambles, appropriate because that's what he does. And he does it quite well apparently. Gambles, a Chicago resident, won $50,000 nine years ago when he played the lottery using the numbers on the jerseys of his high school basketball team. "I've been playing the same numbers ever since," Gambles said in a news release. "I can't believe they paid off again!" Gambles won $1.05 million in June 2016 in the Lucky Day Lotto jackpot. Lottery officials said Gambles' advice to other players is to "pick your favorite numbers and stick with them."
Players purchasing lottery tickets at theLotter can save Lucky Numbers and replay the same lottery with their stored numbers with a click of a button.
San Francisco Man Credits "Stupid Luck" for Second Big Lottery Win
And finally we meet Californian Frank Derfield, who won a huge $5 million prize in September 2016 just 14 months after winning a $100,000 prize. "It was a shock. Disbelief. I definitely defied the odds a lot more this time!" Derfield said in a statement. How did he manage to win a second lottery prize? "I wish I can tell you … It's just stupid luck. It's just weird." Derfield has been playing the California Lottery since 1984 but now he's considering retiring from playing. "We're going to have to talk about it … all my luck may be used up at this point!" he said. Unless lottery luck strikes him a third time.
Never miss a huge jackpot prize by playing US Powerball and the other amazing lotteries offered by theLotter. As shown in these many stories, lottery luck can strike twice but you need to start to play in order to win the first time.