"After the good weather comes the ugly; And after the war, peace."
(Editor's note: Or life-changing wealth!)
Charles Cahier (1856)

Life does not always reward those who most deserve it and so it is heart-warming when you hear a story about someone truly deserving winning the lottery. A story (or as it happens, four stories), with such tragedy and yet such a happy ending.
Which lotteries offer such life-changing jackpots that they can lift winners from the direst of circumstances? Whilst all lotteries are capable of changing lives, with a current jackpot of $162 million, the US Mega Millions jackpot definitely holds the trump card! Countless players around the world are getting their tickets online in time for the upcoming draw.
Who will win the jackpot remains to be seen. But we wonder… Will he or she be as worthy a recipient as the four men below?
From the Hell of Kosovo to EuroMillions Winner
In the late 90s the horror in what used to be Yugoslavia reached its climax in Kosovo. Some Kosovars were fortunate enough to escape, as was the case of one man who managed to flee to Belgium, and fifteen years after witnessing the horrors of Kosovo, this father of four (who worked as a street cleaner in Brussels) won €168 million in the EuroMillions in October 2016. This may be more than the $162 million on offer in the Mega Millions this week, but then again, should you scoop up $162 million, you'd hardly have reason to complain!
From Civil War in Syria to Scratch-off Winner

A Syrian refugee living in the northern suburbs of the French capital has won €1 million after buying €10 worth of scratch cards.
Before arriving in France, the winner owned a small business in Syria, but was forced to flee the country because of the civil war that has displaced almost half of the population and killed more than 250,000 people. The former businessman of 30 arrived in France in 2011 and had worked a series of odd jobs before winning €1 million from the state lotto. The lucky winner then used the money to buy an apartment and he plans to open a restaurant, study French and bring his family to join him.
From a Senegalese Migrant Ship to Winning the Spanish Lottery

Almost a year ago a Senegalese migrant rescued from a ship by the Spanish coast guard won €400,000 in Spain's annual Christmas lottery. The winner, named Ngame, stood before the lottery agency, in tears, when he discovered he was holding a winning ticket in his hands. He thanked Spain for saving his life and giving him the chance to play the most popular lottery in the country. Can you imagine a more amazing Christmas gift?
From War-Torn Iraq to Being a US Lottery Jackpot Winner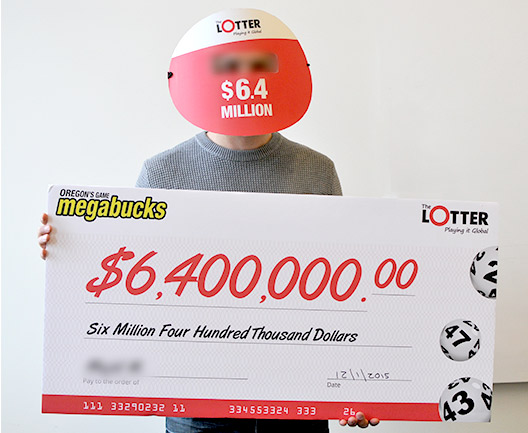 Finally, there is the incredible story of an Iraqi who won $6.4 million in the Oregon lottery in the Autumn of 2015 via theLotter.com!
His story reached the headlines in news outlets across the world and since then theLotter has created more millionaires in lotteries such as the Powerball (a man from El Salvador, a Canadian and an Australian each won $1 million in the US Powerball through us in 2016 alone).
So there you have it… Regardless of whether you have experienced difficult times in your life or were born with a silver spoon in your mouth you can look forward to a bright future with a lottery win! To maximise your fortune, go to the biggest jackpots in the world (like the $162 million US Mega Millions) to turn your life around!